EuropeFX Scam: The Real Report
Updated January 3,2021
Is EuropeFx a scam? Is EuropeFX a regulated broker? This EuropeFX review will answer these questions and tell you everything you need to know about this Cyprus based Forex broker.
---
Is EuropeFX regulated?
EuropeFX is regulated by the Cyprus Securities and Exchange Commission. This means that they are authorized to offer services throughout Europe. It also means that there is a regulatory body that can be relied upon to report any questionable activities.
On June 15th, 2020 the Financial Conduct Authority (FCA) banned EuropeFX from offering services to clients in the UK.
Who owns EuropeFX?
EuropeFX is owned by Maxiflex LTD. (formerly Maxiflex Global Investments Corp. Limited). Maxiflex is registered in Cyprus as a CIF (Cyprus Invesment Firm) and is licensed by the Cyprus Securities and Exchange Commission (CySEC).
Is EuropeFx Legit?
EuropeFX has been the target of countless complaints and reports of misconduct over the past two years. Most recently EuropeFX was banned by the FCA from doing business in the UK. This confirms that EuropeFX is not to be trusted and to be considered a scam.
A Real EuropeFX Review
As is often the case with online Forex brokers, most of the EuropeFX reviews that can be found on the first few pages of google search results are not actual reviews on EuropeFX. For this reason you cannot trust most online reviews of EuropeFX.
Most online mentions of EuropeFX are websites who are likely being paid by EuropeFX for posting their content online and promoting their business. Some of the articles you can find online are no doubt written by EuropeFX themselves!
This review differs in that we are presenting real facts as they are clearly laid out online.
These "reviews" are simply presenting information that is readily available on the company website such as their spreads, fee structure, withdrawal policy etc. They do not present any factual information or feedback based on actual experience with the company. While these companies may not intend to be leading people astray, that is in fact what they are doing.
Real EuropeFx Reviews
EuropeFX reviews have always been a roller-coaster stock chart. We've reported this before, and anyone who can read between the lines knows that online reviews are not always what they seem. Positive reviews are not always written by actual clients, this is especially true here.
In the case of Trustpilot reviews, a company that may work to keep things as honest and transparent as possible, we still see a lot of impropriety. This applies not only to the EuropeFX trustpilot page, but to most online brokers review pages as well.
A common pattern that appears in scam broker reviews is as follows.
A negative review will be posted after which it will be immediately reported to Trustpilot in effort to have it removed. If the company is unsuccessful in having the review removed, (which often happens when the reviewer is a legitimate client) there will suddenly appear multiple positive reviews following it. You can see an example of this below. A review left by Andrew Maclonczyk who apparently was scammed by EuropeFX left a scathing review sizing up the behavior which is often reported on EuropeFX.
The very next day a barrage of four outstanding reviews magically popped up. Most of which didn't have a very good command of the English language.
At the time of this update, a bad review was left by Elaine Slattery suggesting that people should "Run a Mile". Only one hour later a positive review comes up highlighting the Gold membership plan (really? the secret membership plan is what is they chose?).
The above mentioned examples are pictured below. You can verify the below on the EuropeFX Trustpilot page.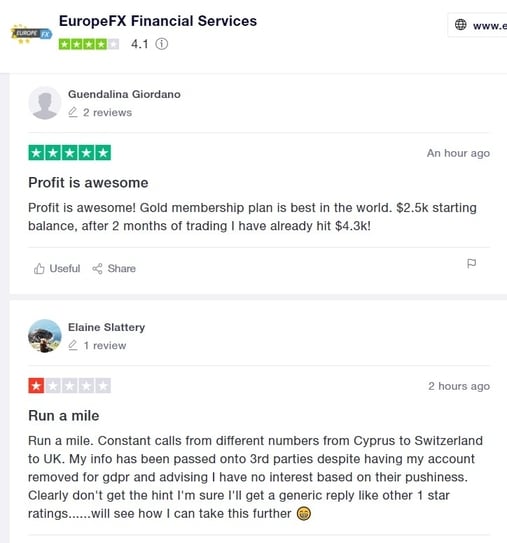 Andrew Maclonczyk's review posted on June 26th.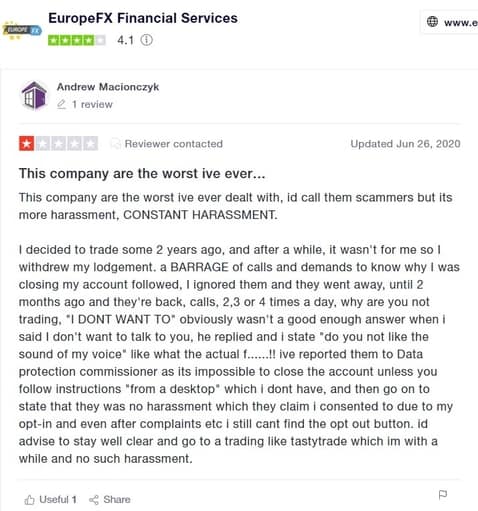 Here's another example of a real review.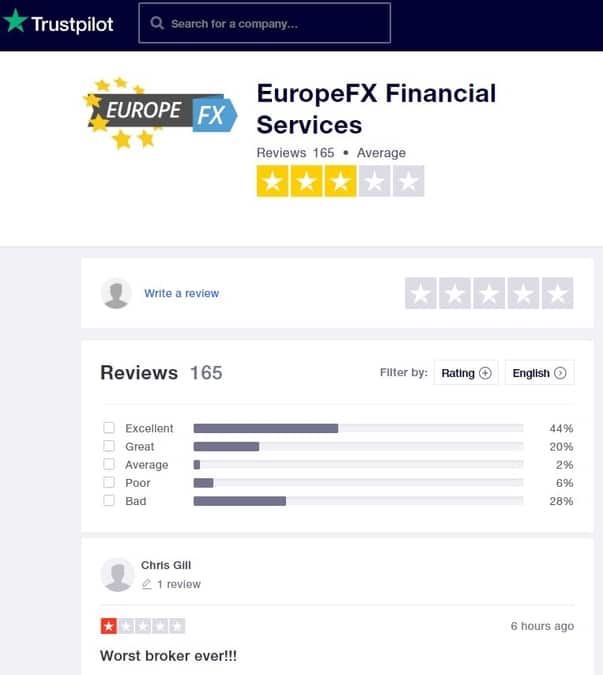 ---
Technical Details – How does EuropeFX stack up to the competition?
As far as online brokers are concerned EuropeFX does offer some competitive trading options which we'll list below. If only they weren't scamming people and these service descriptions could be depended on.
The Platform
EuropeFX offers a relatively wide variety of platform options covering both web-based and mobile platforms on a cross-device bassis. They offer the MT4 (Metatrader 4) as well as eFXGO, the EuroTrader and TradeWorks. They have EA's (robots) and allow scalping.
Trading Environment
With an initial minimum deposit of €200 one can open an account and begin trading. This can be considered a small amount, however there are companies that offer accounts with no initial deposit.
Instruments
EuropeFX offers over 50 currency pairs as well as the most popular cryptocurrencies. In CFD's they offer over 125 including both equities and commodities. They also allow EA's/Robots and and scalping. They work with MirrorTrader and Robox.
Account Options
With five accounts to choose from, it seems that EuropeFX is catering to any level of play a customer is looking for.
As numerated below;
Bronze Account – Minimum Deposit of €1,000
Silver Account – Minimum Deposit of €2,500
Gold Account – Minimum Deposit of €10,000
Platinum Account – Minimum Deposit of €25,000
Premium Account – Minimum Deposit of €50,000

Leverage and Spread by Account
It isn't entirely clear what their exact charges are, however per account based on user reports the following is as accurate as you'll get without an account. Both the Bronze account and silver accounts offer a maximum leverage of 1:200 and an average spread of 1.4 pips. The Gold account offers the same max leverage with an average spread of 1.2 pips.
Deposit Methods:
Deposit methods include Visa/Mastercard, Skrill, bank transfer, SOFORT, iDeal, GiroPay, Safetypay, trustpay, euteller, Przelewy24, worldpay and Mybank.
Withdrawals:
Withdrawals must be made through a secure portal found on the EuropeFX website and carry a list of 10 conditions are enumerated in the picture below.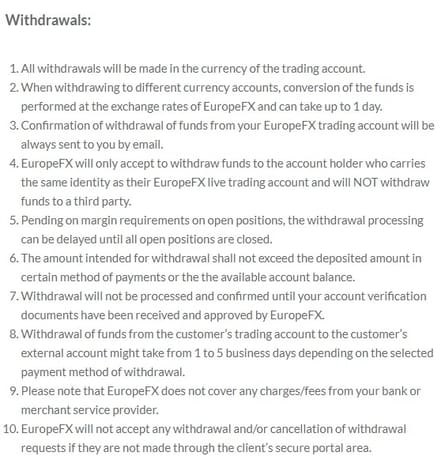 As a word of caution and what we've already mentioned, EuropeFX is notorious for blocking withdrawals at every stage.
---
EuropeFX is still regulated by CySEC, how can they be a scam?
EuropeFX is a confirmed Forex trading scam. The fact that they are still regulated under CySEC and permitted to offer services throughout Europe only means that a strong enough case has not yet been brought against them to remove their license.
If you've been scammed by EuropeFX and would like to know how you can get your money back click here.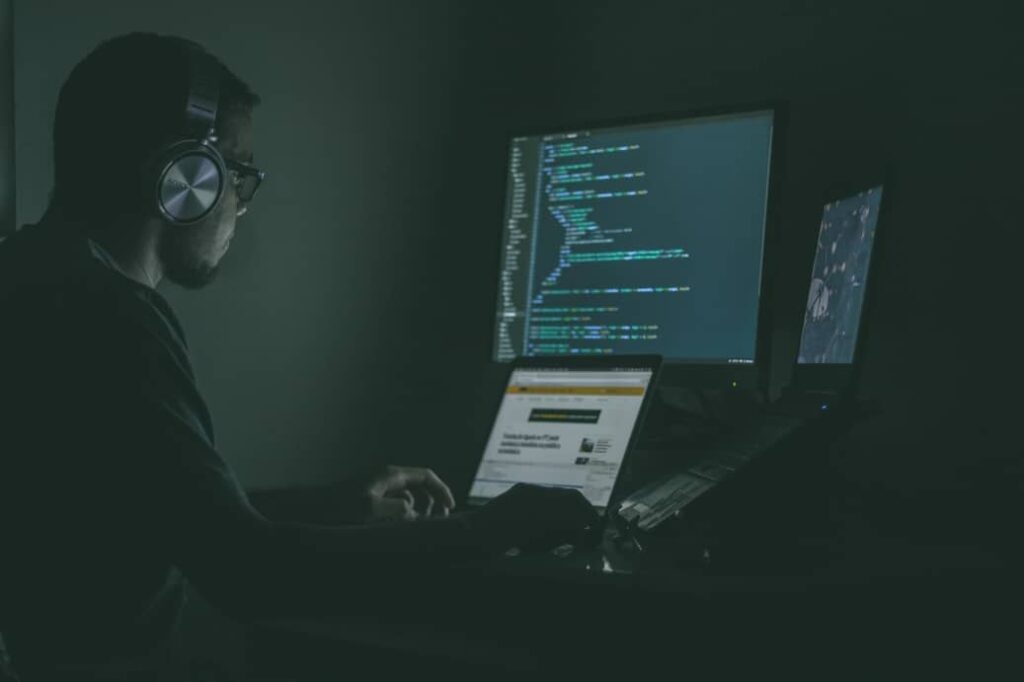 EUROPEFX UNDER INVESTIGATION
In addition to being banned in the UK by the FCA and after receiving unending complaints the Australian Securities and Investments Commission (ASIC) is going after EuropeFX Australia as well as TradeFred. Any EuropeFX review that leaves this out would be doing a disservice to it's clients.

The Australian counter part of EuropeFX is owned by Maxi EFX Global AU PTY LTD. was first registered on March 28th, 2018 as an Australian Proprietary Company and was licensed by ASIC until recently.
Their registered address: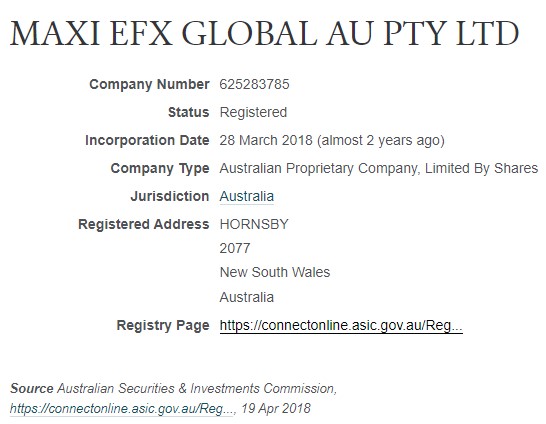 Who is being investigated?
Maxi EFX Global AU Pty Ltd (also known as EuropeFX) as well as BrightAU Capital Pty (also known as TradeFred) have both been served court orders and are under investigation.
As we've mentioned, both of these companies are Corporate Authorised Representatives of Union Standard International Group Pty Ltd. (who uses the name USGFX)(their AFSL number is 302792).

Did anyone see this coming?
Well yeah, just about everyone who has traded with any company in the EuropeFX brand. EuropeFX and EuropeFX Australia are well known for aggressive sales tactics and funny business so none of this should come as a surprise. The only surprise is, why has it taken so long for the regulators to move in?

Who is USGFX? What is their relationship with EuropeFX?
USGFX is a partner company who is owned by the same company and individuals as EuropeFX. In legal terms, EuropeFX (who's legal name is Maxiflex LTD in Europe and Maxi EFX Global AU Pty LTd. in Australia).
USGFX also owns TradeFed, another scam broker. TradeFred's legal name is BrightAUCapital Pty Ltd.
What's important is that both of these companies are Corporate Authorized Representatives of Union Standard International Group Pty Ltd. or USGFX.
The reason that this is noteworthy is because many reports have come through stating that since EuropeFX has lost it's regulatory status with ASIC, it has begun shifting it's clients to USGFX. This worrying bit of information is just the tip of the iceberg.
While the intentions of this article are not to provide a USGFX Review, the nature of the activities at USGFX can help broaden our understanding of EuropeFX.
Here are some USGFX Reviews left on the Forex Peace Army website.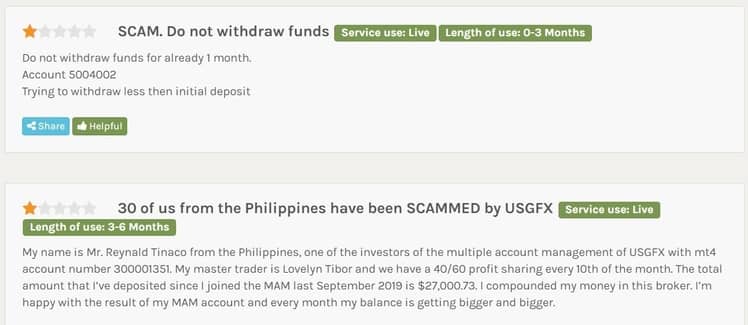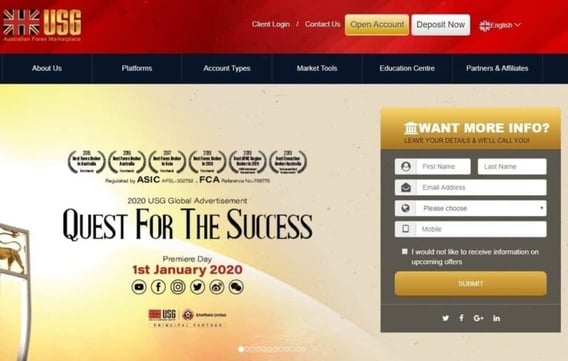 ---
---
Why are the regulators moving in on EuropeFX only now?
Only the men and women at ASIC could really answer this question entirely. From what we know ASIC has received many complaints against EuropeFX over it's time, and it seems that things have gotten to a point where enough is enough. While it may take regulators a long time to act, we think it's better late than never.


What is ASIC doing about EuropeFX?
ASIC is attempting to protect citizens and all clients of EuropeFX and TradeFred as they apply to the courts with restraint orders. What this means for people who have lost money to EuropeFX and want to get it back…well that depends on you rely on. Scam News Channel is aware of a number of large scale "recovery scams" who prey on individuals who have already been scammed. There are a very few reputable recovery companies that may or may not be able to assist with getting money back from EuropeFX. If you fit this description and want to learn more, feel free to reach out to us and we'll do our best to point you in the right direction. You can contact us here.
---
What has happened so far?
The sequence of events

December 12th, 2019 – The Federal Court in Sydney acted after having received applications for orders to protect customers. (Orders pursuant to section 1323)(The Corporations Act).
The court made orders against EuropeFX Australia and TradeFred in the form of asset restraint orders. These were done against USGFX on an "ex parte basis".
USGFX then gave an undertaking to the courts to keep $182,000 AUD and $53,067.33 USD in a segregated bank account.
Important to note – No further asset restraint orders were made against USGFX

December 17th, 2019 – The Federal Court in Sydney made further orders against EuropeFX and TradeFred and the orders were vacated by the court.

February 17th, 2020 – The matter will be brought before the court.
August 9th, 2020 – EuropeFX is going strong, and even introduced new initiatives to their marketing efforts. This means that EuropeFX is continuing to do business throughout Europe in the same way as before.
UPDATE: In a shocking outcome to losing their ASIC regulatory standing the owners of EuropeFX have managed to redirect their clients to USGFX after paying off ASIC fines.
WE KNOW FOR CERTAIN THAT EuropeFX is still operating under the name EuropeFX because we receive countless complaints DAILY regarding investors who have not been able to withdraw their money from EuropeFX.
---
What does this mean for EuropeFX?
In similar cases that we've seen, this is clearly the beginning of the end. Companies like EuropeFX can get away with manipulating their customers as they certainly have been for a long time but eventually things catch up with them. It's safe to say that there won't be any EuropeFX within the coming months or maybe year, particularly their Australian operating wing.

Are they processing refunds?
One thing that was made clear on the ASIC government website is that the asset restraint orders that were imposed on both EuropeFX (and TradeFred) do not prevent them from making payments to customers or creditors. We want to be perfectly clear here. Getting your money back from EuropeFX has been arguably the single most difficult endeavor for most and what many complaints have been coming to address. We don't mean to indicate here either of these companies have made any change in their behavior or policy. For the sake of fair reporting if you or someone you know have heard otherwise, please reach out to us and let us know.

Is EuropeFX still operating?
Yes EuropeFX is still in business, however they have made the following changes in the legal structure of the company. As of February 11th, 2020 the following notice is posted on the EuropeFX website. (Europefx.com.au)

This is the text;

"Important Notice!
As of 1 February 2020, "EuropeFX" is no longer a Corporate Authorised Representative ("CAR") of Union Standard International Group Pty Ltd ("USG"), which holds an Australian Financial Services License ("AFSL") # 302792.
As of 1 February 2020, "EuropeFX" is no longer a Corporate Authorised Representative ("CAR") of Union Standard International Group Pty Ltd ("USG"), which holds an Australian Financial Services License ("AFSL") # 302792.

Moving forward all of your trading services (as stipulated in the Terms of Business, FSG and PDS) will be provided to you directly by USG with exactly same business terms and user experience.

As the issuer of the CFD financial products and responsible financial services licensee, USG has been providing the underlying trading services which were made available to you through the EuropeFX platform. There will be no interruption or change to your trading experience.

All of your trading history, and all open position will remain open and will be reflected also in your new client area when you login on or after 1 February 2020. The only difference moving forward will be that all customer support and inquiries after 31 January 2020 will be provided by representatives of USG rather than EuropeFX.

As of the 1 February 2020, please contact UGS's support team via email to efxclients@usgfx.com or via telephone: +61 2 9251 1416.

We thank you for your support and business to date, and wish you all the best for continued trading success."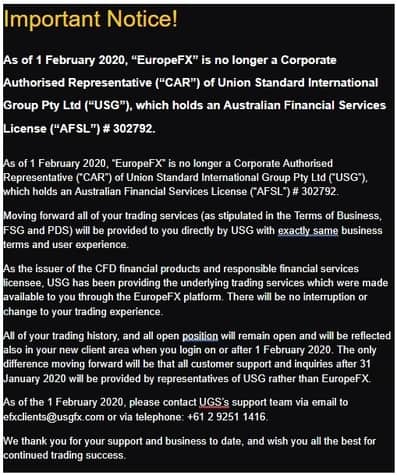 Has anyone been arrested?
Not to our knowledge as of the writing of this article. However the court has placed orders effective immediately to restrict overseas travel of John Carlton Martin who is the director of USGFX as well as the director of TradeFred.

What about the director of EuropeFX?
Pedro Eduardo Sasso interestingly enough was not given travel restrictions and gave an undertaking of his own accord to notify ASIC if he is to leave Australia.

What's the current status of EuropeFX visavis ASIC?
ASIC's website maintains that the investigation is currently ongoing and as of yet there have been "no findings of contraventions of the Corporations Act" against any of the parties involved.
Currently trading with EuropeFX? 
If you're in the Uk or Europe you should and if it's at all possible, we recommend withdrawing your funds as soon as possible. If you are having a hard time doing so, unfortunately you are not unlike many individuals who have filed complaints against companies like these in the first place. We also recommend getting in touch with us. Let us know.
Can I get my money back from EuropeFX? 
It's definitely possible to get your money back from EuropeFX. If you'd like to learn how, feel free to reach out to us here and we'll do our best to point you in the right direction.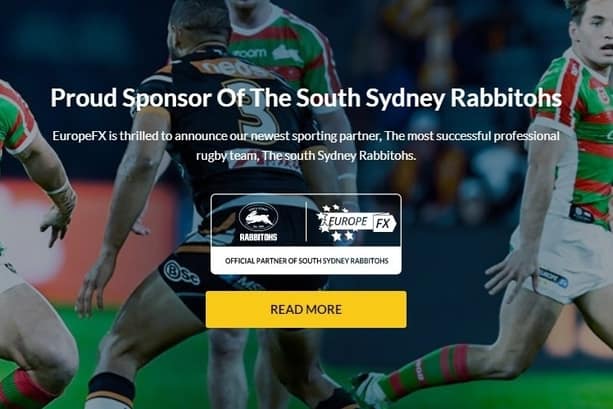 Will EuropeFX lose their sponsors?
It's well known that EuropeFX is an official partner of the South Sydney Rabbitohs. News like this is definitely grounds to jeopardize such a relationship. As of yet there is no news of a change in the relationship but we'll be sure to let you know as soon as we hear of.
EuropeFX's sister company USGFX (owned by USG) was previously sponsoring the English soccer club Sheffield United, that relationship has already come to an end.

Will ASIC reimburse anyone who's lost money to EuropeFX?
Most likely not. The only time ASIC is helpful in retrieving funds from a broker who is behaving badly is when there are financial bodies involved and ASIC can weigh in. Unfortunately as helpful as ASIC would like to be, it's often a long drawn out process involving months of communication and the appropriate responses to make any headway. In this scenario however time if of the essence if one wishes to get their money back. ASIC is not the best address.
Can a recovery company help me?
Recovery companies can help in many circumstances, especially in the case of chargebacks. They can also help retrieve funds from regulated firms.
Be wary of recovery companies that ask for large sums up front. There are a large number of scammers posing as recovery companies.
If you'd like help discerning who can be trusted, feel free to reach out to us here and we'll do our best to help you navigate through these muddy waters.
More Regarding the EuropeFX Scam
The next scheduled court date is February 17. At that point we may well know what's been going on behind the closed doors of EuropeFX and if they will be closing their doors.

Update: The court case came and went behind closed doors. The takeaway at this time is as follows.
EuropeFX is still operating throughout Europe under their CySEC license.
The good news is that the Cysec license makes it possible to recover lost funds from EuropeFX. If you've been unable to withdraw your money from EuropeFX or if you feel that you've been scammed by them let us know here.
EUROPEFX REVIEW: UPDATE No media release has been issued by the Federal Court or by ASIC. EuropeFX is alive and well. They are still operating in Australia albeit without the accountability of any regulatory body.
If you've been scammed by a trading company or you suspect that you've been scammed reach out to us as soon as possible and we will do our very best to give you the information you need to see if there is a way to get your money back. Many people have been able to get their money back from companies like EuropeFX but in the world of recovery scams, it's very hard to know the good guys from the bad guys.