There is a wealth of suspicion and negative commentary on the internet regarding Maverick Trading and Maverick FX. If you've looked into trading with or you've already traded with Maverick FX or Maverick trading, what we will be covering here will help explain a lot of the uncertainty online. Most importantly this article will answer concerns regarding if Maverick Trading is a scam or if they are a legit forex company.
What is Maverick trading?
Maverick Trading is a prop firm which offers Forex trading services through it's brand Maverick FX. It also offers stocks and options trading through it's Maverick Trading program.
A prop firm means that the traders (clients) trade using the firms money, or other investors' money. In the case of Maverick Trading, no actual funds are ever required on the part of the firm, we'll explain more about why this is below.
Maverick Trading was founded in 1997, and they've been recruiting sales people to sell their scheme ever since. The company stays off the radar by not actually offering any financial services. By not actually acting as a broker, or a financial institution they have done very well avoiding coming under scrutiny from the SEC.
How Much Does It Cost to Join Maverick Trading?
One of the first major red flags is that it can cost up to $11,000 to join Maverick Trading. They claim that before getting funded as a prop trader, you need to get approved by going through an extended interview. This is a major part of their MLM scheme. Upon joining, the lifetime membership will cost $6,000 in the stock/options division, plus $5,000 risk capital once you are funded with a $25,000 account. If all of this sounds too good to be true or too much money to charge a novice, it's because it is.
Is Maverick FX a scam?
Maverick Trading convinces unsuspecting clients that they will train them to become professional traders while requiring the client to pay exorbitant fees. Maverick also places conditions on the accounts and trades of their clients that do not allow a client to ever successfully withdraw any profits. This confirms that they are a scam.
Is Maverick FX regulated?
Maverick FX does not hold a regulatory certificate from any government body. They are not required to do so as the company only allows trading with company funds. 
What about the SEC?
What Maverick Trading did do when they first opened up shop is register their company with the SEC, however as can be seen on the government website. Maverick Trading has not filed any forms with the SEC apart from their initial company registration in 1997!
In short, the Maverick Trading part of their scheme is only there for show, it's not an actual part of their operations.
The Maverick FX Scam
The way the scam works is Maverick requires a large fee up front, $6000 for the training program and $1500 plus $199 a month for the trading program. In the student (training) program they give "training" material which is purported to help individuals become "professional traders" in an extremely short period of time. Once an individual has paid the $6000 they've pretty much got them committed to their program whatever the caliber is. Is it a good program? No, it's not. Certainly not worth anything close to $6000. Especially considering that the only thing that the "support" people are interested in doing is moving the client along so they can start trading (and lose their imaginary money).
To be 100% clear. We have not found and it will be hard to find that Maverick Trading is doing anything illegal. Case and point is that they've been in business for a long time. The purpose of this article is to help people from losing their money. There is no real value or justified product being offered by Maverick Trading.
Get your money back from Maverick or at least see if it's possible.
How we confirmed the scam
Forex scams are not difficult to identify however in the case of Maverick Trading it's a bit tricky. The goal of every forex scam is to present themselves as a company that is as legitimate on as many levels as possible. This means that the salespeople and support agents are trained to speak the language and be knowledgeable of the industry similar to actual financial industry professionals. The key word here is "similar". The training that forex scam sales people receive is meant to do just that. It gives them the basic understanding of markets and trading terms so that they can fool the unsuspecting victims into thinking that they are dealing with a professional.
This has been confirmed over and over online by Maverick Trading employees.
Here are a few examples from Indeed.com and Glassdoor. Keep in mind there are LOADS of fake reviews and scheming employee reviews.
This first example is very telling as it depicts a Forex scam to the extreme. No interest in actual service or professionalism, just Wolf of Wallstreet style quota.

And then the scam begins…

And another one…

and then there's this one…

And one final example from Glassdoor…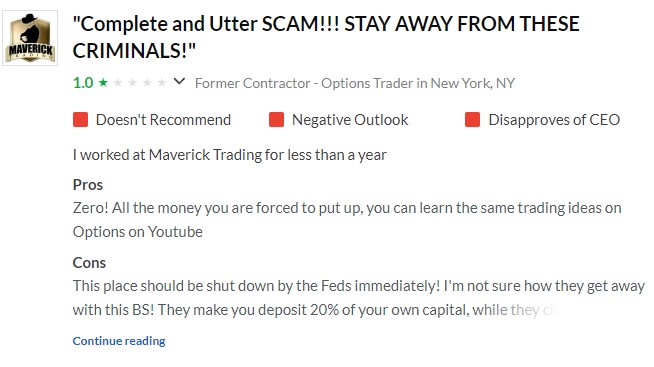 What about the press kit?
Yes, Maverick has gone very far to maintain their public image of "helping people" and "diversity". However they are no different than the likes of EuropeFX and Itrader. Two of the most notorious "regulated" trading scams in the industry. Like these Forex companies who have paid for endorsements with local sports teams to help promote their reliability and convey popularity, Maverick has sought partnerships and sponsors.
Recent developments
It's well known that Maverick recruits aggressively for their "trading expert" positions. As recently as two days ago on February 9, 2021 Maverick posted job opportunities for a remote foreign currency position. This post was found on an fintech recruiting website and is in addition to their website posts which are plentiful.
If you'd like to find out if you can get your money back from Maverick contact us here.
What about positive ratings and reviews?
It's impossible to rely on positive ratings that are left on various websites simply because these websites, Glassdoor, Indeed, Trustpilot and others are extremely easy to dupe. It's also known industry wide in the Forex community that posting fake reviews is standard operating procedure.
Putting things simply, if the review looks amazing, it's probably fake. This is even true for many regulated firms. They often have good reputations which are completely built and bolstered through their own manufacturing.
---
Summary:
Maverick Trading is a boiler room scam that convinces individuals that they will be trained to become professional traders and requires them to deposit large amounts of money. Maverick works very hard to make themselves check off all of the boxes to appear legit and makes tremendous PR efforts. The moral of the story here is, just because they're not doing anything illegal, doesn't mean they're not a scam.
Can I get my money back from Maverick Trading?
Have you been scammed by Maverick Trading? Let us know and we'll tell you if you can get your money back.
UPDATE Feb 11, 2021: Individuals have been able to recover their money from Maverick Trading. If you've lost your money to this company and would like to know if your money is recoverable contact us right away.
Who can I trust to trade with?
If you're looking for a company that has regulation from three of the major regulatory bodies worldwide, trade with a company like Fortrade. They are licensed and registered by the FCA (UK), ASIC (AU) and the IIROC (Canada).