Is XTrade a scam? A real XTrade review
Is XTrade legit? Are they regulated? This XTrade review will answer these questions and more while clarifying if XTrade is a Forex Scam.
Is XTrade a regulated Forex broker?
XTrade is regulated by the Cyprus Securities and Exchange Commission. They are also registered as a Cyprus Investment Firm and are therefor covered under the Investor Compensation Fund (I.C.F). This means that if the Forex company goes bankrupt, clients are guaranteed their invested funds up until €20,000.
XTrade is regulated by the Cyprus Securities and Exchange Commission (CySEC) under the name Xtrade Europe Ltd. This means that they are authorized to provide services throughout the EU.
However XTrade.com is not covered under this regulation. The only approved XTrade owned domains that are regulated by CySEC are offerfx.com and offersfx.eu. This means that if you're trading on an XTrade website, they are not regulated.
XTrade Europe has previously used the names XFR Financial Ltd. and O.C.M. Online Capital Markets Ltd.
It's important to note that despite any claims otherwise, XTrade is not and never was regulated by the FCA. XTrade Australia has been flagged by the Australian Securities and Investments Commission (ASIC) as well as the British Columbia Securities Commission (BCSC).
Is XTrade regulated in Australia?
XTrade is regulated in Australia by the Australian Securities and Investments Commission. This means that Australians citizens are offered a certain level of protection when trading with them.
If you've been scammed by Xtrade, you can get your money back. Contact Us Here.
If you're a client of XTrade and you are certain that you have been treated in a way that is highly questionable, you are likely being scammed.
Be wary of recovery scams targeting XTrade clients. There are methods of getting money back from XTrade. We can advise you on what's possible and what's just another scam. Contact Us.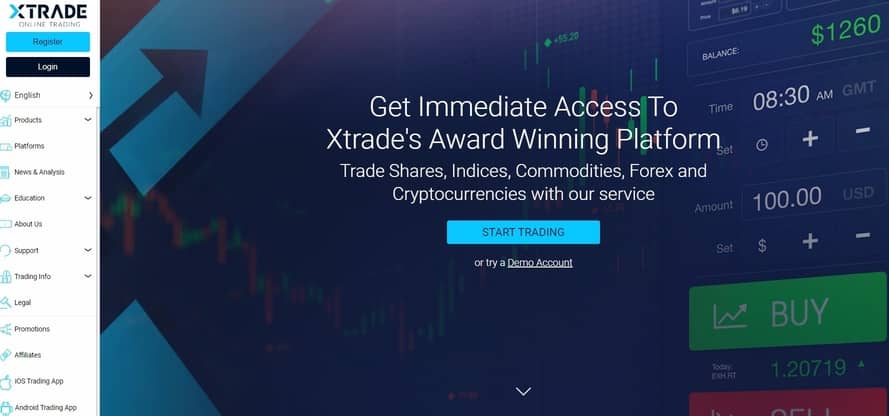 Is XTrade legit?
XTrade is known to deny their clients withdrawals. For this reason alone XTrade is a scam.
There are additional red flags that indicate that Xtrade should not be trusted which we'll cover below.
What is XTrade?
XTrade is an offshore Forex Broker that offers Forex and CFD trading services. They were established in 2003 and are registered in Belize at No.5 Cork Street, Belize City, Belize. C.A. where they also claim to be located. They have additional offices in Cyprus, Israel and Australia.
If one chose to visit them to try and get their money back, it's likely that a trip to their registered location would be in vein, as most Belize based Forex brokers are actually scams and don't have a physical operation anywhere in the country.
You might be more likely to find their offices here.
If they are located in Belize should I trust them?
It would make sense to conclude that the reason that XTrade is located in Belize is because they are a scam. Many Forex scams choose Belize as their location to register. We've covered this topic in other articles but to put it simply, Belize is a haven for individuals who look to open up companies without having to identify who they are or be held accountable for their business practices.
The fact that they are registered and claim to be located in a country that is fraught with corruption and well known for being a money laundering hotbed, is enough to label them a scam. But why stop there when there's more?
Before we do so, and for the sake of covering all things Xtrade, let's have a quick look at their platform and offerings.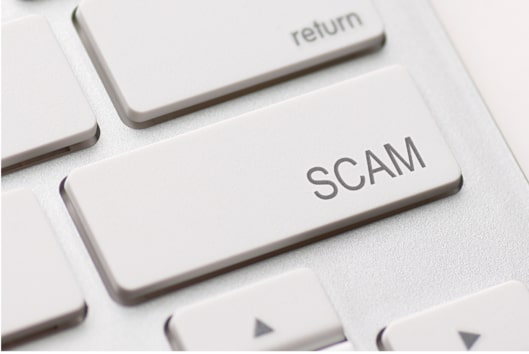 What services do they offer?
In terms of services, XTrade offers 1:400 leverage on over 150 CFD's, 51 currency pairs in addition to Bitcoin, 74 Stocks, 12 Indices to choose from and 13 commodities. They have the lowest minimum deposit in town at $100 USD (or $1 USD according to some clients) and they do not charge commissions or hidden fees.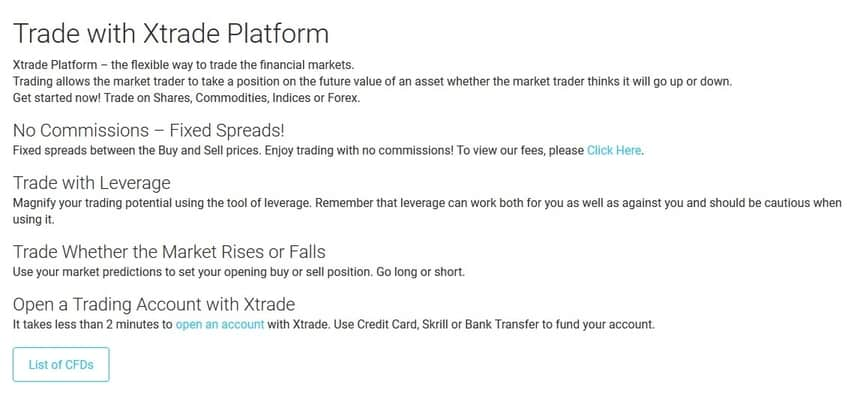 ---
The Trading Platform – XTrade Website and App Review
The XTrade website is designed with state of the art graphics and is optimized to suit their global client base and convince even the most suspecting individual of their legitimacy. They use their own proprietary trading platform which is available as a web application and a mobile app for both Android and Apple devices.


Account Management and Types
The XTrade website doesn't officially state that they offered managed accounts, however many reports have told us that there is account management taking place.
As far as actual types of accounts, unlike most of their competitors, XTrade does not offer different account options. This is unusual to find with a scam broker. The sales processes used in the Forex Fraud industry is heavily bolstered by a method of funneling individuals through different accounts. You can read more about how that works here.
---
Is XTrade a Market Maker?
Yes, XTrade is a market maker and all executions take place in house. This means that clients are betting against the house. What's even more concerning is their usage of a proprietary platform. Combine this with their lack of regulation makes for a "do whatever you want" environment.
Payment Options
XTrade is exceptional when it comes to funding your account. They offer a wide variety of payment options on their website, these include Visa/Mastercard, and over 60 other methods of payment. They make it very easy to find what methods of deposit are available with their country drop down menu. Many of the options of deposit are geared towards their South American clientele.

Withdrawal Policies
When it comes to withdrawals, this company has a bit of a lengthy process. According to their policies, three conditions are required to process a withdrawal.
A Government Issued ID or Passport
Proof of Address
Assessment of Appropriateness

In addition to the above, the website states that withdrawal requests can take up to five business days, or in extreme cases, up to 3 weeks! That kind of policy could be considered a scam even if XTrade wasn't a proven scam broker. This is also something you won't find on your average XTrade review.
Most financial service providers allow you to simply press a button. XTrade provides that button as well, however be prepared for a lengthy withdrawal process that eventually leads to not receiving any funds and the clear conclusion that XTrade is a scam.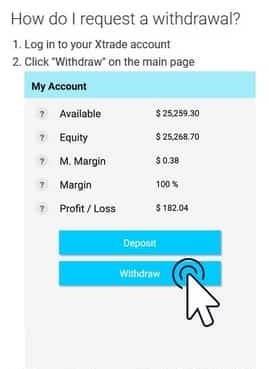 The rule of thumb with Forex scam companies is; withdrawals are granted as a tool that the broker uses only in order to earn the clients trust so that they will deposit more money. This is certainly the case with XTrade. If one does manage to make a withdrawal, they can get ready for the broker to ask for a lot more money on the next call.
---
XTrade Online Reviews – What the customers are saying.
Online reviews are not always what they seem to be, especially in the Forex industry. However there is often enough material available to sort the wheat from the chaff. In this case, it's not too difficult.
One thing we know regarding sites like Trustpilot. A company has the right to dispute a negative review. If the reviewer can't provide proof of their experience, then the negative review is removed. Here's an example of an online review from January of 2018 that has not been removed, it relates to the withdrawal policies that we mentioned above.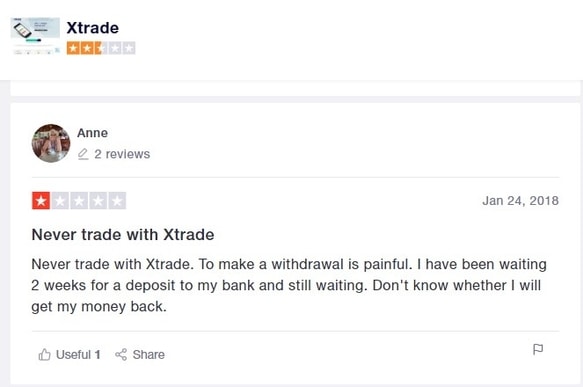 Unfortunately, we have to assume that Anne never got her money back.
It even seems like Google agrees that XTrade is a scam.

Forex Peace Army (FPA) Review of XTrade
These website used to be a very reputable one but has recently experienced on onslaught of fake reviews. We've still seen efforts by FPA to maintain integrity. Recent choices of sponsored ads on their site have lead us to second guess what's really going on. The overall rating of a company is something that can be used as a general reference to a company's standing.
Here's how they grade the subject of our review.

Not exactly five stars.
How about their customer service?
Thinking that customer service actually exists at a company like this one is a mistake in it of itself. The fact that an online review website awarded them the 2017 best Forex Customer Service Award just tells us a little bit about the standards of that website.
Customer service is something earned and in the case of XTrade here's how the clients feel.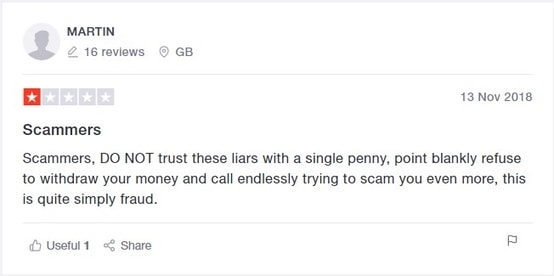 It would seem that Martin from the UK who lost his money to this company puts it into the most eloquent way possible as he says in his review, "DO NOT trust these liars with a single penny.
---
Proof of the scam
In essence, XTrade has not done anything that we haven't seen over and over again in terms of being a scam broker. Their history with regulators is only one of the many damning factors. This is a company that while it still did have regulation was directly partnered with XForex, another infamous unregulated Forex scam. However in addition to all of the above factors, the very complaints that clients have made to us regarding XTrade and the consistent nature of these reports is enough to know that this company is up to no good.
Conclusion
While XTrade made efforts early on to attain regulation and paint itself as a worthy broker. The reports are out and it's clear from their lack of regulation and insistence on not returning their clients funds that XTrade is a scam.
---
If you've been burnt by XTrade and you want to get your money back, report your case to us here. We'll tell you how you can get your money back.
We'll also contact you if a criminal investigation takes place and if a class action lawsuit is pursued.
Getting your money back.
There are two possible ways to get your money back from a company like XTrade and they don't apply to all situations. We can tell you where you stand in terms of possible recovery of your funds and what to lookout for.