Why do Forex Broker scams offer different account options?
We will be explaining why Forex fraud operations offer different types of accounts on their platforms. The answer may not be as simple as one would think.
Forex scams establish and run their schemes by copying the same practices and platforms that legitimate traders use. This means that practically everything that can be found in a Forex scam company, or a binary options office "trading floor" or even a cryptocurrency scam will mimic the same items that can be found in many legitimate financial institutions.
---
Internally, the primary differences between Forex scams and actual Forex companies are who the individuals are operating the company and how they behave. However there are also subtle differences that can be found out in the open. Account Types are a perfect example of that.
The account types that are offered serve two purposes.
1) To appear to be legitimate. (the simple reason)

Forex scam brokers are constantly trying to appear legitimate. This is simply because they know that they're a fraud and will therefor put unending efforts to prove otherwise. In the case of account options, they will use a professional looking menu on their website that includes industry terminology with client options that portrays a professional outfit. The below example, taken from the 24Option website is a good example.
While we haven't studied every legitimate broker to say it doesn't exist at all, real brokers tend to offer the same items to everyone. There are brokers such as IG and FxPro that offer various platform options. However in terms of "account options" and "minimum deposits" they all seem to be the same. (Feel free to let us know if you find otherwise.)
In the picture below you can see FXPro offering three separate platforms (not account options). Each platform has very few differences in what it offers. What's more important is that they all carry the same required initial deposit. We'll explain why this is important shortly.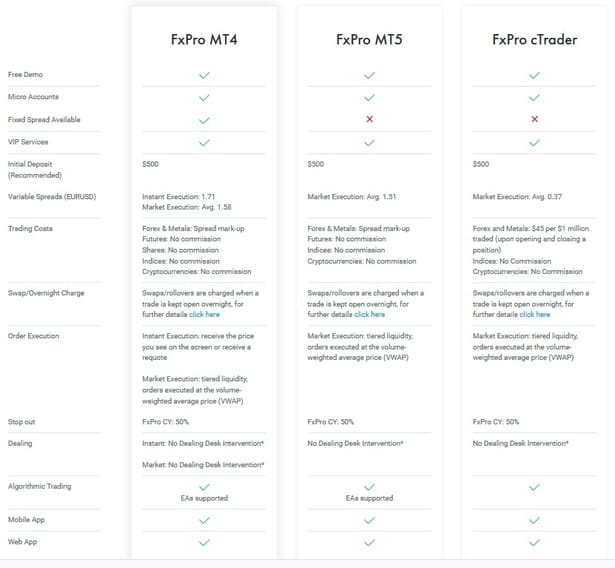 It would make sense that a company would cater to an individual who is investing a million dollars with different perks than an individual who is starting with $250. We're sure that on the inside these behaviors exist as they do with banks. However it's clear from the commonality of scam brokers using "account types" that this is the most basic goal. To convey legitimacy.
It's ironic that they use a method to appear legitimate, with a tool hat the legitimate regulated brokers don't even offer.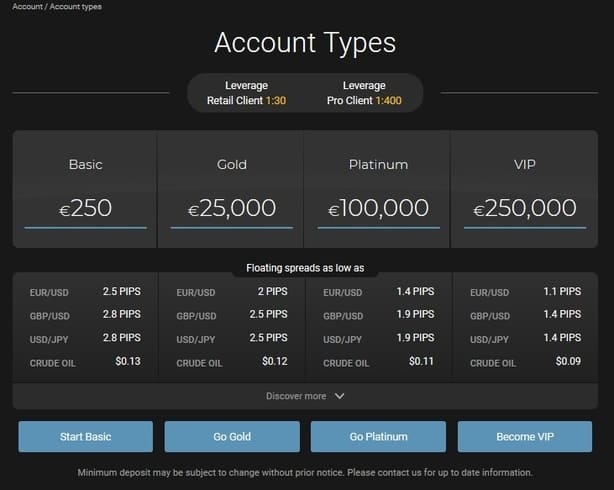 2) It helps them sell – and take more money from their clients

In addition to the appearing legitimate, the scam brokers also use this to pretend to provide different kinds of experiences to different types of "clients".

A common phenomenon that has been reported to us, is when the individual signed up for the account ie. made their original deposit. They were shortly after pushed to deposit more money to "place bigger trades". During this process they were persuaded into higher dollar amounts based on the advantages that they would earn in moving into a different account category.
In some cases the broker would "refuse to allow" the client to increase their trade volume without moving into a higher tier account.
This is likely a more pertinent reason why most Forex scams offer multiple account options. It's simply part of their scheme to manipulate clients into depositing more money by making them think that they will have bigger and better advantages with a higher tier account.
Stay safe and do your research.
If you would like to report a scam, or receive information on what you should do if you've been victimized by a Forex scam or any other type of fraud, contact us here.