SuisseCG Review: A real take on this offshore broker
It can be very difficult to discern a legitimate broker from a scam broker. This SuisseCG review will tell you everything that you need to know about this offshore broker and how the SuisseCG scam was confirmed.
What is SuisseCG?
SuisseCG is an offshore Forex broker that offers stocks, cfd's and Cryptocurrency trading. They have been placed on a no-trade list by multiple regulators.
Who owns SuisseCG?
SuisseCG is owned by Technoric Ltd. The extent of this brokers nefarious practices can be documented all over the web. In certain cases individuals have been able to get their money back from SuissECG, however victims of the SuissECG scam are encouraged to proceed with caution in regards to recovery companies or individuals posing as wealth recovery specialists.
Reports have come in stating that SuisseCG is providing information regarding their clients to scam recovery firms. It's not clear if the recovery scammers are the same operatives of SuisseCG.
Where is the company located?
According to the SuisseCG website, they are located in St. Vincent and Grenadines. Many forex scams find haven in St. Vincent as pursuing them there seems to be exceedingly difficult. An article by the local news in St. Vincent details how these types of scams get away with registering there as shell companies and in most circumstances getting away scot-free.
TraderUR.com
Traderur is another brand name owned by Technoric Ltd. Traderur was included in the a warning issued by the Financial Conduct Authority (FCA) last October. It's unclear if any prosecution will take place, as the registered agent of these types firms are often a strawman who's received a sum of money but has nothing to do with the actual operation. The strawman is also given no details about the real owners or operators. This is a common practice in Forex and crypto scams.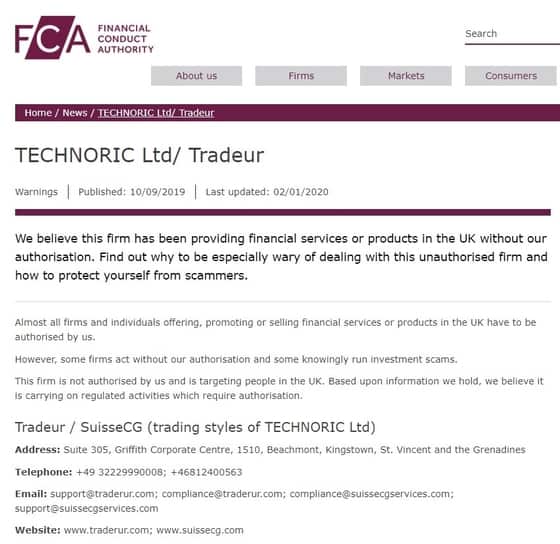 SuisseCG Reviews
As one may have anticipated based on the above information, the SuisseCG trustpilot page reflects a similar story regarding their clients experiences.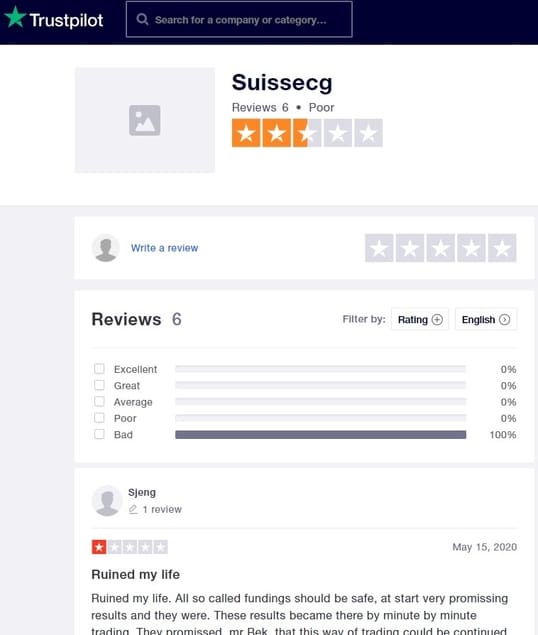 CONFIRMED SCAM – Is SuissECG a reliable Broker?
SuisseCG is a confirmed online trading scam, individuals are heavily encouraged not to engage in any sort of financial interactions with this company. SuisseCG fits every single description of a typical online trading scam, or Forex if you will. They are not regulated, they claim to be licensed and registered in St. Vincent and Grenadines, a place which is notorious for its corruption and lenience towards scam brokers and others scams. This is not the first and will not be the last of companies that will steal your money and leave you with little to no recourse of getting it back.
Recovery Options – Can I get my money back from SuisseCG or TraderUR?
If you have already lost your money to SuisseCG and an individual or company has offered to recover the money for you. It is highly recommended that you practice caution. If you'd like for us to screen the individual or company that you're dealing with, reach out to us here and we will provide you with all of the information that we have regarding this company or individual as well as our knowledge on the chances of there being recourse in your specific case.

Not the first online trading scam
As you can see all over the internet trading scams like the SuisseCG scam are happening all of the time. The best way to fight back is by reporting the scam, finding out if there is a way to get your money back, and raising awareness. The UK government and the Australian government are working all of the time to raise awareness and prevent these types of scams.
You are not alone
From our reports we know that there are hundreds of people who have lost money to the SuisseECG scam. If you'd like to be put in touch with the group to attempt a class action recovery leave us your information here.